Publishing on the Internet is regulated by law in many countries, notably by GDPR regulations in Poland and European Union. Below, you can find important information about processing your personal data on this site and about cookie policy.
zone84.tech blog is maintained and written by Tomasz "zyxist" Jędrzejewski who lives in Kraków, Poland. You can find the current contact information on the Contact page.
1. Your personal data
1.1 Who uses your personal data?
The personal data administrator is Tomasz Jędrzejewski, mentioned above
The personal data processors are:

OVH Sp. z o.o., ul. Swobodna 1, 50-088 Wrocław, a subsidiary of OVH Groupe SAS, registered in w Lille under the number 537 407 926, headquatered 2, rue Kellermann, 59100 Roubaix, European Union: for storing the personal information on the servers. Data processing agreement
Automattic Inc., 60 29th Street #343, San Francisco CA 94110: for spam detection in comments. Privacy page
Google Ireland Limited, a subsidiary of Google, LLC, Gordon House, Barrow Street, Dublin 4, Dublin, D04e5w5, Ireland: statistics, spam protection and limited marketing. Data processing and Security terms
1.2 Where your data are processed?
The personal data are stored on servers located in France, European Union, and additional backup storages located in Poland, European Union. Other data processors may perform a limited processing in their respective locations outside EU according to their privacy policies.
1.3 Who can access your data?
Some personal data you provide, are used for identifying you as a comment author (more details can be found below). This information is publicly available worldwide for everyone who visits this website, and displayed next to your comments. You must accept this privacy policy in order to comment and make this information visible.
1.4 Protection from unauthorized access
The access to the collected personal data is protected by the access control mechanisms which use the following technical protection means:
secure, encrypted SSL connection,
two-factor authentication,
all backups and other information about the website stored on encrypted devices.
Our hosting service, as a data processor, is responsible for protecting the physical access to the servers and data stored on their hard disks. You can view the OVH Data Processing Agreement here.
1.5 Backup policy
This website makes periodic backups for safety reasons. They also include personal data stored on this website from the moment of making the backup. We keep only the backups no older than 45 days, and store them in a secure, encrypted location with limited access. In the unlikely event of restoring the website from backup, we are only able to restore the version from the moment of making backup due to technical limitations, and any changes made later will be considered lost.
1.6 Cookies
Cookies are small text files stored in your browser (on your device, such as mobile phone, tablet or computer) by websites. Cookies can be read by the appropriate websites.
When visiting the website, you are explicitly informed about cookies being used and you need to give us explicit consent in order to process them. You can see the details of what cookies we store and for what purpose, in our Cookie Policy (some details of cookie usage are also listed in this policy). You can adjust your cookie settings at any time, by clicking "Manage consent" button visible at the bottom right of your screen.
1.7 Your rights
You have the right to the access to all your personal data, information what personal data we collect and how we process it, their rectification, their erasure ("the right to be forgotten"), to obtain your personal data in an easy-to-reuse format, to transfer your data to another entity. You have the right not to be a subject to a decision based solely on automated processing, to object all or some of the data processing we do (including profiling), to restrict the processing of your personal data by us.
There might be however some restrictions in executing your rights. We may be legally required to share your data on demand to the applicable institutions due to administrative, legal or security purposes, such as ongoing criminal investigation or tax fraud detection. Similarly, we might not be allowed to remove certain data for the same reasons.
2. Purposes of collecting your data
Below, you can find more detailed information about different personal data we collect.
2.1 Analytics
This website uses Google Analytics for gathering the traffic statistics of this blog. Google Analytics may use statistical cookies to automatically track your activity on the website and collect information sent to the server by your browser, such as: anonymized IP address for the purpose of geolocation, opened pages while visiting this website, your browser type, your operating system type, your device type, your screen resolution, your language.
If you have visited this website through a search engine, it may collect the search phrase used for finding it. If you visited this website through a link from another website, the URL of that website may be also collected.
This information is then anonymized and aggregated into general metrics, so that recognizing an individual person is no longer possible.
2.2 Embedded content from another website
We strive to provide only locally hosted content. However, some articles on this site may include embedded content (e.g. videos, articles, etc.). Embedded content from other websites behaves in the exact same way as if the visitor has visited the other website.
These websites may collect data about you, use cookies, embed additional third-party tracking, and monitor your interaction with that embedded content, including tracking your interaction with the embedded content if you have an account and are logged in to that website.
2.3 Comments
As a visitor, you can leave comments under articles on this site, which involves collecting some personal data about you for the purpose of showing you as the comment author, and helping spam detection. Leaving comments is an optional activity.
Comments and associated metadata are stored on this website indefinitely.
Leaving a comment requires accepting this privacy policy and code of conduct.
We collect your name, your photo (when using social login), website address and the comment text, to display them publicly and identify you as the author. When using social login, the website may also collect and display a link to your social account.
We collect e-mail address for the purpose of exercising your rights over your data and helping spam detection. We do not send any newsletters, mailing information, and any other form of marketing.
We may also collect information about your IP address and browser type to help spam detection.
You may opt-in to save your name, e-mail address and website in cookies. These are for your convenience so that you do not have to fill in your details again when you leave another comment. These cookies are stored for 60 days.
You may opt-in to leave a comment using your social account from LinkedIn, Google or Twitter. When using this functionality, the website automatically creates a local account for you associated with your social profile, and downloads the personal information listed above from your social profile. This information is periodically updated whenever you leave another comment. As long as you stay logged in to your social account, all comments will be signed by it.
When commenting using your social account, you must give us an explicit consent to create a local account mentioned above.
When you are logged in to your social account, we do not track or profile your activity at this website other than general analytics described earlier.
How to exercise your privacy rights while commenting:
you can adjust cookie settings to determine what type of information we might store in cookies while commenting,
when commenting using social profile, you can manage your comments on your own, including removal of individual comments and your personal data. The access to this functionality is available as an icon at the top of the comment box under each article. You need to be logged in to your social profile.
when commenting as anonymous person, you may request removing all or individual comments by writing to us through the contact form. However, we may require to prove that you are the right person to make such a request, for example by contacting the provided e-mail address.
How comments work with backups:
the comments and associated personal data are archived as backups according to the policy described above,
when you remove or change your comments or personal data, these changes will be included in the next periodic backup,
when restoring the website from backup, we have no means to determine changes to personal data made after taking this backup. Therefore, in this case an older version of data will be restored.
Here's where you can find your settings when using social login: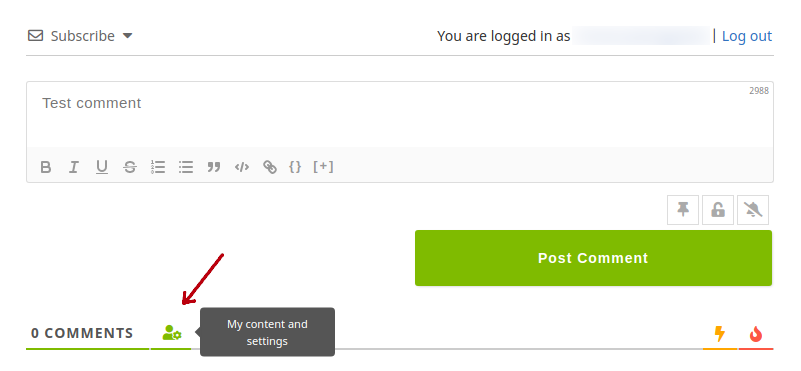 2.4 Contact form
In order to use the contact form, you need to provide us your name, e-mail, message subject and content. This information will be used solely for the purpose of conversation with you which may later happen through e-mail. The conversations are kept for 6 months. The same applies when contacting us through e-mail addresses directly.
2.5 Marketing and advertising
This website does not use advertisements, therefore you are not tracked by any advertisement system. However, please keep in mind that:
some techincal solutions used by this site (such as Google Fonts or reCAPTCHA) may track your activity while using them, if marketing consent is granted,
if you have published a comment using a social account, the provider of that account may track your activity on this website, according to their policy.